CELTIC THUNDER AUSTRALIA TOUR 2014
Following the tragic death of original principal singer George Donaldson last month, Celtic Thunder will be dedicating their upcoming Mythology Australian tour in May/June this year to the late member. George's death has stunned his fellow band mates, along with their fans. He was highly regarded and loved by all. Affectionately known as "Big George", he was invaluable in helping to establish the show's trademark celebration of Celtic heritage.
Emmet Cahill, who left the show in December to pursue a solo career, has graciously rescheduled other commitments to join the tour with Keith, Ryan, Neil and Colm as a guest artist, to pay tribute and honour their lost friend and colleague. "I am deeply saddened by the death of not only a colleague but a friend and felt that it was only right to re join the guys on this momentous occasion, paying homage to a wonderful man."
Ahead of the tour commencing, the internationally successful group will arrive in Sydney on May 7 for a three day promo visit ahead of their biggest tour to date, beginning in Hobart May 12. The spectacular Mythology tour will be covering an extensive 22 dates across capital city and regional markets throughout Australia, concluding in Perth on June 13.
CELTIC THUNDER 'CHRISTMAS SYMPHONY' TOUR
The Celtic Thunder Symphony Tour kicks off in Clearwater, FL on November 14th. This will be the first ever Symphony Tour for Celtic Thunder, who will depart from their traditional and critically-acclaimed large set productions to perform songs from their 2013 chart-topping album Christmas Voices in a dynamic live music experience accentuated by the instrumentals of a full symphony orchestra.
Featuring holiday favorites ranging from traditional carols Away in A Manger, and O Holy Night to the more contemporary Mary's Boy Child and Fairytale of New York, Celtic Thunder will also perform solo and ensemble numbers, signature Celtic Thunder hit songs such as Ireland's Call and Turning Away and traditional Irish numbers Dulaman and My Land.
Venue Location & Dates are posted on the Celtic Thunder website . 'Meet and Greet' passes are available directly from local Public Television stations, the participating station are listed on the Tour page of the website .

With even more exciting news, Celtic Thunder are currently scheduling "THE BEST OF CELTIC THUNDER" tour for Spring 2015. This tour will cover the USA and Canada and details will be announced shortly. The show will feature a mix of best loved songs and fan favorites from all 10 Celtic Thunder shows. We will set up a fan forum soon for this so you can suggest your favourite CT songs to be included in the set list for "The Best Of" Tour.
CELTIC THUNDER - 'HOME' DVD
Celtic Thunder's new DVD Celtic Thunder - Home is a wonderful collection of the show's fan favorites and best-loved songs set to a background of spectacular scenery of Ireland. Celtic Thunder will serenade you as you are transported to places of immense beauty such as The Cliffs of Moher, Carrick-a-Reed Rope Bridge, the wilds of Donegal or indeed the garden of Ireland, County Wicklow. You will witness the majesty and splendor of the Irish countryside, while Celtic Thunder set the tempo with their recordings of much loved Irish standards "Danny Boy", "Mountains of Mourne", "Carrickfergus", "Black is the Color" and many more.
If you have never had the opportunity to visit Ireland, Celtic Thunder -Home will give you a bird's eye view of one of the most beautiful places on earth. True, we might be biased, but honestly the breathtaking scenery that you will encounter on "Home" really is awe-inspiring. From quiet and tranquil lakes, canals and winding rivers, to sandy beaches fringing Ireland's pure shores and facing onto many tiny islands and rugged mountain ranges that dominate the skyline, it's hard not to be enchanted by the striking landscape.
CHLOË AGNEW JOINS THE CELTIC THUNDER CRUISE
The second annual CELTIC THUNDER CRUISE (the full-charter, four-night Irish-themed cruise sailing the Caribbean November 8-12, 2014)–have announced internationally renowned singer and former star of Celtic Woman, CHLOË AGNEW, as this year's special guest. Fan's aboard the cruise will get unique access to meet and greets, photo opportunities and three performances from Chloë, featuring classic material from Celtic Woman along with other original songs penned by Chloë herself. In an exclusive offer to Chloë's fans CELTIC THUNDER CRUISE is offering a Champagne Reception with Chloë on board the cruise for the first 100 cabins booked using promo code "Chloë" when making your reservation.
CELEBRATING EASTER TRADITIONS IN IRELAND
Easter is one of the most important religious dates in the Irish calendar and there are a number of different Irish traditions based around Lent and Easter Week.
In Ireland preparation for Easter usually starts on the first day of Lent, forty days before Easter Sunday. Ash Wednesday marks the beginning of Lent, many Irish Catholics attend mass and receive Ashes on their foreheads. Most Catholic schools in Ireland offer a daily mass for students during Lent.
From the first day of Lent Irish people would stop eating meat but would also "give up" something they cherish such as favorite food, alcohol, cigarettes and even television for the duration. On Fridays in Lent many Irish people replace meat in their main meal for fish. It's a time of self discipline and a reflection on what Irish people have to be thankful for but also a time for Irish families to be together.
HISTORY OF THE EASTER EGG
Easter eggs are specially decorated eggs given out to celebrate the Easter holiday or springtime. It is the influence of the traditional spring rites that made Easter so egg-special. And myths coming down to us from an incredibly distant past have shown man's relationship with the egg to be very deep seated one.
This is caught in old Latin proverb: "Omne vivum ex ovo". This means "all life comes from an egg". Not just the Latin saying, eggs are just laid well over all corners of the world. From ancient India to Polynesia, from Iran, Greece, and Phonecia to Latvia, Estonia, and Finland, from Central America to the west coast of South America, there are reports of myths of the whole universe created out of an egg. Thus, it is not unusual that in almost all ancient cultures eggs had been held as an emblem of life. The concept of all living beings born from an egg is also a foundational concept of modern biology.
But how did eggs come to be associated with Easter? Despite claims being made that Easter Eggs were originally pagan symbols, there is no solid evidence for this. It was not until the 18th Century that Jakob Grimm theorized a putative pagan connection to Easter Eggs with a goddess of his own whom he named Ostara, a suggested German version of Eostre.
CONTINUING THE JOURNEY OF HOPE RESTORED!
In my last letter, I noted how we were blown away by what we saw, and were transformed by it. It is safe to say that we are different now than before this trip and it is exciting to know how Ryan and Colm are applying their experiences to their lives. What they learned in a week could not possibly be fully communicated in a book or a blog, or through pictures or videos. But, they are using their God-given talents and their ability to communicate to a wide audience to share their experiences, and to inspire others to care.
Having witnessed the glimmer of hope amongst the suffering, Ryan expressed to me that the music and words to his song "Life" resonate now more so than ever. He said before we left, "Now I know why I wrote it." Surely you've seen the blend of photos that captured special moments for him in a video of this song, as a beautiful reflection of his experiences. How encouraging.
TRADITIONAL EASTER LUNCH
The Irish absolutely adore this time of year, everything in the garden is springing into life and the first of the new fruit and vegetables are just ready for picking. In the kitchen garden there are pale tender shoots of seakale hiding under the terracotta forcing pots and lots of delicate pink rhubarb stalks for tarts and compotes.
The main course for our Easter lunch has to be lamb. You'll need to order young Spring lamb a week or two ahead – Many people choose salmon or turkey for Easter, it wouldn't be Easter without sweet, succulent Spring lamb. You'll need to order it ahead from your local butcher. Leg, loin or shoulder can be roasted, the latter is the most delicious of all, but more of a challenge to carve than the leg.
EASTER RISING 1916
The Easter Rising of 1916 was one of the defining moments in the struggle for Irish independence - indeed it may be regarded as the turning point for the fortunes of Irish republicanism. And this despite the fact that the rebellion was a total failure ... but its bloody aftermath united the Irish. But let's cut through the myths surrounding 1916 and establish the bare facts.
Who were the Irish Rebels of 1916? "Home Rule", a limited independence of Ireland within the British Empire, had been discussed for ages and was within reach in the early 1900s. It actually should have come about in 1914 - but the start of the First World War intervened.
In preparation for the enactment of Home Rule several paramilitary organizations had been set up. The Ulster Volunteer Force, opposed to Home Rule, mainly Protestant and dedicated to preserving the status quoor take Ulster out of the Empire, flourished in the north. In the south the Irish Volunteers, mainly Catholic, supporting Home Rule and ultimately Irish independence, were set up. But at the outbreak of war in Europe most volunteers from both sides of the divide actually declared their loyalty to London, the most able-bodied joining the British Army. The Irish Volunteers swiftly reinvented themselves as "National Volunteers", with only a (very dedicated) minority concentrating on the original cause.
WILD ATLANTIC WAY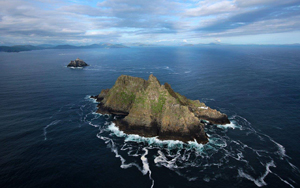 If you've a penchant for wilderness, water and a willingness to step off the traditional tourist trail then now's the time to take a ride on the Wild Atlantic Way – a 2,500 km touring route that promises to share the secrets of Ireland's seascapes, traditions and laid-back lifestyle.
Taking in seven counties and three provinces (Ulster, Connaught and Munster) The Wild Atlantic Way is the longest coastal touring route in the world. The route is defined by its spectacular Atlantic views, a generous scattering of islands and swathes of dramatic coastal scenery including cliffs and peninsulas. The easy to navigate, consistently signed route includes 157 so-called "Discovery Points" where drivers can stop and learn more about must-sees and lesser-known diversions of this fascinating coastal area.
The Wild Atlantic Way can be driven, walked or cycled and avoids main roads and highways, keeping the route more local and closer to the communities who live there. The route is beginning to become internationally recognised, in the same way as the Garden Route in South Africa or Pacific Highway in New Zealand.
GALWAY FOOD FESTIVAL
The 3rd Aunal Galway Food Festival To Take Place During Easter Bank Holiday Weekend.
Festival Food Village * Open-air Markets * Food & Restaurant Trail * Taste Trail* Food Tours * Food Talks *World, Craft Beer & Wine Tastings * Cookery Demo's * Local Produce * Kids Stuff

The 3rd Galway Food Festival will take place over the Easter Bank Holiday Weekend from Thursday 17 until Monday 21 April 2014. All are welcome to come and enjoy 5 days of exceptional food and lots of free events for all the family in Galway - Ireland's favourite festival city. The Festival will again celebrate the best food traditions and celebrate Galway as a good food destination, with a strong emphasis on artisan, seasonal and local produce.
An estimated 60,000 people visited events and locations at last year's Festival, with President Michael D. Higgins paying a surprise visit. . An estimated 15,000 people per day visited the Festival Village at Fishmarket Square/Spanish Arch and an additional 10,000 visitors walked through the Woodquay Country Market. The Moycullen Friday Market, the Galway Market and the many venues on the citywide Food Trail all reported increased footfall and attendances, particularly on the normally quiet Good Friday.